If you're a social media user, you're likely already somewhat familiar with built-in search engine optimization on social platforms, better known as SEO. Youtube and Instagram are almost entirely search-based, with users utilizing the search function in the same way as they'd use google. SEO on social platforms may not be new, but it is new to Tiktok. 
Tiktok has quickly become the most engaged and lucrative platform for both businesses and creators, but the addition of SEO is throwing most users through a loop. Views are no longer being doled out like Halloween candy and creators aren't sure what tweaks they need to make to push their videos to new eyes. Tiktok is making huge changes to its algorithm, and that means we as content creators have to change with it. 
If you want to stay ahead of your competition and learn how to utilize Tiktoks SEO to your advantage, follow these three helpful tips! 
3 Easy Tiktok SEO Tips To Enhance Your Content
1. Search your niche in Tiktok's search bar

 
For the sake of this conversation, let's say you're a beauty Tiktoker and your recent videos haven't been performing very well. To figure out what people are searching in your niche, go to the Tiktok search bar and look up "beauty trends" to discover what words and phrases you should implement into your content. 
What currently comes up are the following key phrases: 
Popular Beauty Products

Trending Beauty Filters

Beauty Trends Men Hate

 

Trending Beauty Supplies
Not only does this give you ideas for what to create, but you can use these key phrases in your on-screen text to ensure that they come up when people search for trends in your niche. If these phrases don't mesh with your video, you can still utilize them by writing them on screen in your video and dragging them off screen so viewers can't see it, or incorporating them into your caption! Creators using this trick have seen a massive uptick in their engagement. 
2. Use the 30 characters allowed for your name on your Tiktok profile to fit in a keyphrase

 
Tiktok recently increased the allotted amount of characters in your profile name to 30, and most people aren't utilizing this yet. It turns out that your name is searchable and will come up in basic user searches. You can optimize your profile by changing your page name from just being your username to being a trending phrase in your niche. For example, if your niche is real estate, you could change your name to Los Angeles Real Estate Tips which is a trending phrase currently in the LA real estate niche. Using your name as your title is a small but effective way to gain more views and followers. This method instantly tells users what your account is about without them having to click it and weed through your backlog of videos. This name will also show up on any comments you make, so if you leave comments on accounts in a similar niche, that person's followers are likely to see that you're a creator they're interested in and give you a follow! Keep in mind that comments are also content on Tiktok. 
3. Utilize the 3+ minute function

 
Probably the biggest change in recent weeks is Tiktok valuing long-form videos over short-form videos. Since Tiktoks inception, shorter has always been better. Up until a few months ago, Tiktok coaches were telling us that we needed to keep our videos between 5 and 15 seconds to abide by the algorithm and keep our audience's attention. With TikTok increasing its max recording time to 10 minutes (a function that is being slowly rolled out and is not available on all accounts just yet) it seems like they're starting to not only compete with Instagram but now with Youtube as well.
Having essentially already won its battle with Instagram, it makes sense that Tiktok is aiming for Youtube next. If you look at how your videos perform, you'll see an additional statistic in the form of a graph. This new statistic is your video's retention rate, and this is important for several reasons. Tiktok isn't just looking at how long the video is, but also how many people are staying until the very end. If 20-40% of users are finishing your video, you can just about guarantee that the video will hit tens of thousands of views or more.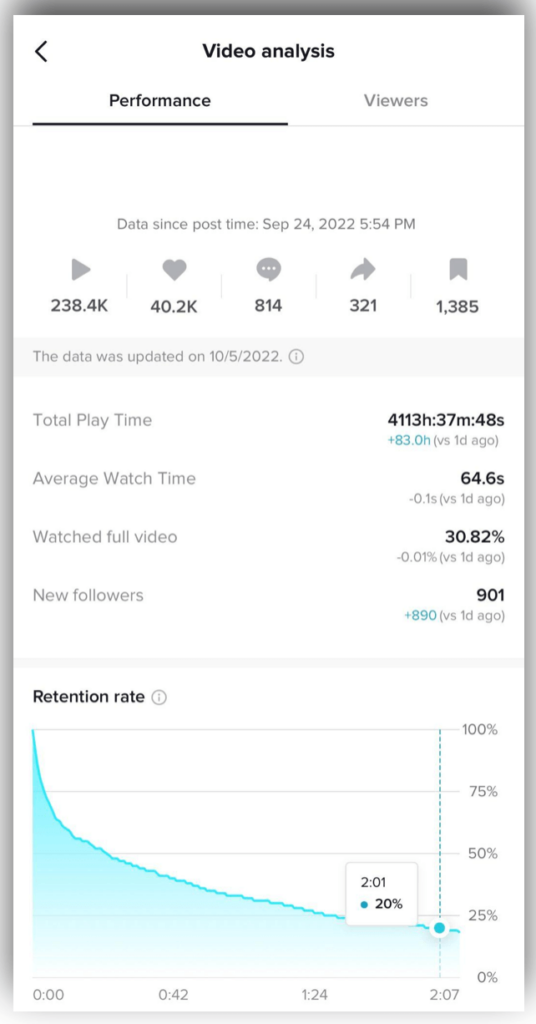 Take a look at the above analytics to get an idea. You don't need the majority of people to sit through the entire video, even 20% will do the trick! So figure out your intro hooks and how you can change your short-form content to translate into long-form. This may be as simple as pivoting from on-screen text with a trending sound to sharing the same information verbally. 
The takeaway here is that to stay on top of the Tiktok game, visibility is key. By implementing the above strategies into your content, you'll be able to create more optimized content and breathe new life into your creative process.