One of the biggest players in the social media game doesn't exist anymore. We're talking about Skweezer, famous for selling Instagram followers/likes/views and getting accounts the blue verified badge.
Many customers are left wondering what happened exactly and there are many speculations on the internet. Being a large player ourselves in the social media world, we only sell TikTok followers, we have some inside information about the Skweezer situation.
What we know:
The owner announced around the end of September that he had stopped all his social media activities (he had a few other smaller sites also). He was going to start a new venture in the entertainment industry. When making his statement Skweezer was still live and operating which caused some confusion in our company. Had he sold the company or was it all just a publicity stunt?
On October 19th we first got noticed that skweezer.net was indeed offline.
We think that it went offline around 17 – 19 October.
It probably staid live for a couple of weeks after making his statement to fulfill the latest orders and handle the remaining customer support.
Why is Skweezer closed?
Contrary to many speculations about them stopping operations we don't believe it's because of them getting into legal problems with Facebook.
The main reason for them shutting the site down is the poor performances lately. Once being of the the top 3 provider in the world, those days are history. When taking a look at the visitors to their site we see that they received in September only 70.000 visitors. A fraction of the +500k visitors they would receive monthly just a few months ago.
Taking a look at the graph below, the downwards line doesn't indicate many potential to continue and get it back to its glory days.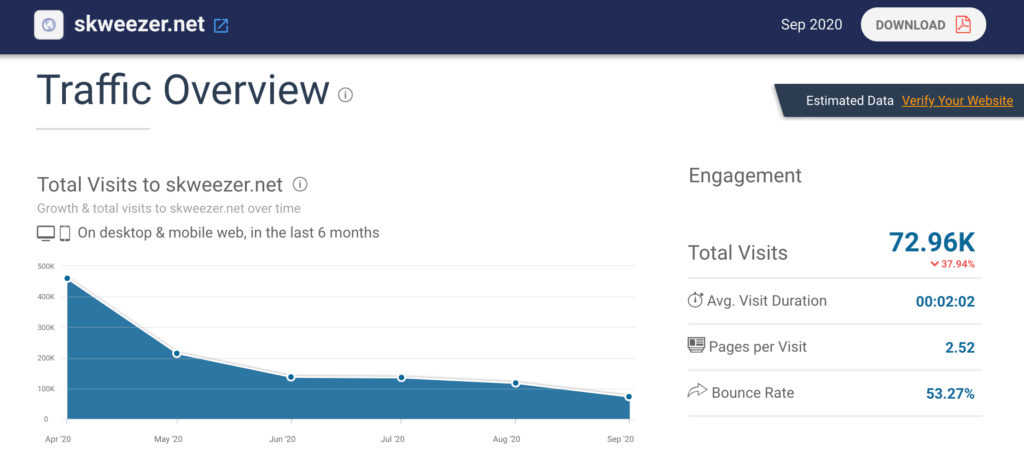 Take into account that the social media world is an extremely competitive space and often involves lots of stress because of delivery problems, we fully understand his statement to seek new challenges in other fields of business. And he can after making a fortune selling Instagram services.
Skweezer alternatives
So one question remains for the loyal Skweezer customers: where do you buy your Instagram followers and likes now? We recommend two different sites.
Mr. Insta – they are still one of the largest providers in Instagram services and have a pretty good reputation. Perfect for anyone looking to buy some normal followers.
The Royal Key – looking for something more premium? TRK is known for delivering targeted followers (country and gender based). They are a bit more expensive but the quality definitely justifies it.
Of course there are many other sites you can find that also delivers Instagram followers and likes. Just make sure to do your due diligence as there are also many scammers active unfortunately.
—
We will update this article if there are any new developments.